We realize comparing software (and software companies) can be a daunting task. We've been in this business for over 20 years and have learned a lot about our competition. We'd like to share this info with you here.
We recommend taking a look at all your software options and feel very confident that, once you've done you're homework, you'll join the 6000+ customers who have chosen ConsignPro as their resale store solution!
Visual Horizons Software - "ConsignPro" software
Owner: Brian Wilson
On market since: 1996
Based in: Florida
People ask me everyday, "Why is your software better than the others?". The answer I give comes directly from our customers. More customers choose ConsignPro for 4 simple reasons.
Our screens make ConsignPro simple to use and teach to others. The software design is "intuitive" and most customers never look at our 130 page User Guide before using our program. View our screens online.
Our support receives rave reviews from our customers. Support is provided by the developers of the software so answers are always fast and accurate. See what our customers say.
Our features provide a complete solution for your store. We've been listening to our customers since Day 1 and have included literally hundreds of their suggestions into our software. We update our software almost every month with new suggestions to make it even better.
Our experience in this industry insures that you will only automate your shop ONCE. Doing it right the first time may cost few dollars more, but it is far less expensive than doing the same thing twice!
To be fair, our competitors criticize us in the following areas:
Myth: Our company has one employee. Fact: We have four great employees, Brian, Sara, Alyson, & Kristen. With software that simply works, we simply don't need a big team of support people.
Myth: Our software is in Microsoft Access. Fact: While many excellent programs are designed in MS Access, our software is written in Microsoft Visual Basic - making it compatible with ALL versions of Windows (now and in the future).
Myth: You can't open many windows at the same time. Fact: You won't need to. All our screens are designed to return you to our innovative Main Menu! Most store owners see this as a PRO, not a CON. In fact, the only person who's ever had a problem with our design is a competitor's salesperson!
Myth: You can't post to social media or sell on eBay with ConsignPro. Fact: There are better tools to pair with ConsignPro to accomplish both Selling and Social. To sell online, consider using SellSimple. To share your item on Social Media, consider using Boutique Window. A good toolbox should have many great tools in it. Rather than pretending to be everything to everyone, we'd rather share industry leading tools with our customers.
Truth: ConsignPro can't run in the cloud. Fact: Despite all the hype about cloud-based software these days, that technology is simply not right for retail. The many drawbacks of the cloud-computing model don't fit the needs of retail. In fact, no major retailer uses a cloud-based system. See our 'The Cloud' tab and learn why.
ResaleWorld - "Liberty 4 Consignment" software
(
visit website
)
President: Ed DiRuzza
On market since: 2002
Based in: Florida
Pros:
ResaleWorld has been in this business the longest, since 1991.
They have NINE techs that provide support for their software (we only need 3).
Program is feature-rich and includes direct posting to eBay (we think SellSimple does it better).
They offer item posting to FaceBook (we think Boutique Window does it better).
They are an affiliate member of industry group NARTS. (we are too).
Cons:
No money-back guarantee - once you purchase the software you are stuck with it. They also have a 15% restocking fee on all their hardware.
Thinking about "Liberty Cloud"? Ask yourself a single question. What happens to your business if your Internet goes down? Answer, Your business goes down. How much will Liberty Cloud cost me?
eBay selling can be better accomplished thru the eBay app found in every Smart Phone app store.
Be sure you understand their overly complicated Support Pricing before signing up. They seem to have different pricing based on the software version you purchase, whether you buy tags from them (red flag), add-on pricing for things even if you're on the Plan (they call it a-la-carte), and basic training. They also charge for "upgrades" but not "updates". So, even if you're on their Plan and simply want to move to a new computer and setup your printer, be ready to be hit with additional charges. By contrast, we charge $200/year and everything is included - period. Their Pricing. Our Pricing.
Since 2002, we've converted over 36 former Liberty customers to ConsignPro due, primarily, to customer service issues. Essentially, these customers would have rather re-invested in new software ($$$) than continue doing business with ResaleWorld - quite a statement. Click this link to contact any of these customers about their experience with both ResaleWorld and with ConsignPro!

They charge extra for printer installation and setup, "how to" questions, walkthroughs or anything deemed a "training" call, networking support, setup, configuration or troubleshooting and firewall troubleshooting.

Training sessions range from $99 to $295 - our initial remote training is FREE.
Online consignor access is $19.95 / month. Ours is $14.00 / month (MyResaleWeb.com)
Their minimum system requirements are the highest in the industry and they are not compatible with all Windows operating systems.
Their QuickBooks Accounting Link is an extra $199 - ours is built-in at no additional charge.
Their Physical Inventory Reconciliation feature is an extra $199 - ours is built-in at no additional charge.
Their Appointment Scheduler is an extra $14.95/month - ours is built-in at no additional charge.
The tags they sell are about 25% more expensive than ours - we send you directly to the wholesaler for tags and labels.
Their reCommerce plan for selling online is $74.95 per month for 500 items. Our Online Store plan for 500 items is only $44 per month, saving you $360 per year.
Their Support Plan pricing is $372/year for a simple 2 computer setup. Our pricing is $250/year for the same - a savings of 48% per year.
...and Support Pricing gets worse, "All prices are STARTING PRICES. The nature/complexity of the issue could generate additional charges."
CCE - "Consignment Success" software
Owner: Was Bill Hawkins, retired.
On market since: Unknown
Based in: California
Pros:
CCE offers two products, a full-featured version and a scaled down version called "Best Consignment Software" - offered at a lower price.
Support costs are reasonable - but Support is now handled through a 3rd party company (see Cons).
They are an affiliate member of industry group NARTS.
Cons:
The software was "developer supported", the developer has since retired (Bill Hawkins).
Support is handled through "The Computer Peeps", while they provide great Support, they don't control the source code programming and can't correct programming issues with the software.
Their "user interface" (the way the screens are designed) is confusing to some customers (as reported by those who have purchased ConsignPro after trying the Consignment Success demo).
They have 7 optional "modules" at about $60 each. By the time you add these, the cost of "Consignment Success" is over $1,100.
There is an on-going dispute between CCE and another company over the theft of this program and re-selling of it.
Net Money Business - "Best Consignment Shop Software" (BCSS)
They say "One bad apple spoils the whole bunch", below is the story of that apple.
You may have come across one of our unscrupulous competitors while searching the web for consignment shop software. This competitor (Steve Henning at BCSS) has maligned our company and totally distorted our pricing on his website, so we're inclined to answer him here. While we'd rather focus on the positives of selling resale shop software, we also try to protect consumers from costly mistakes.
First off, the Nashville Better Business Bureau currently rates Net Money Business (the company that offers BCSS software) with a grade of "F". See full report.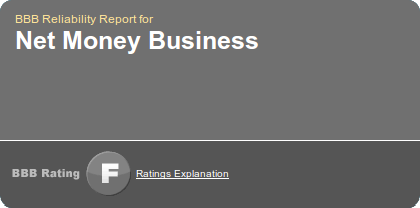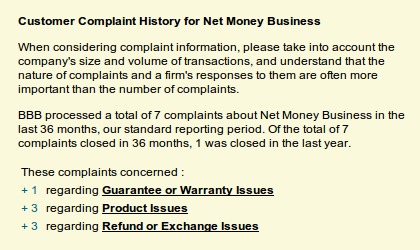 Next, read industry blog posts from dozens of BCSS customers who feel "ripped off"
Read about Valerie's experience with BCSS
Read about Kathy's experience with BCSS
Read about Dawn's experience with BCSS
Read about Gail's experience with BCSS
Talk to actual customers who made this mistake
Some interesting things you'll notice about the BCSS website*:
His company, "Net Money Business" isn't even on his BCSS website. Why not?
They are on their 3rd phone number in five years, previous phone numbers were (901) 474-2442 and (877) 669-0854. Those numbers are now disconnected. Their e-mail address seems to change about as often.
They are not a member of trusted industry watchdog group NARTS. Why not?
They get a failing grade from the Better Business Bureau of Tennessee.
They offer FREE support for one simple reason, they have no in-house support team! Instead, you can send them an email - which is fine unless you have a store full of customers and your POS system is down!
Some phone support seems to be available from a woman named "Joy" who runs a resale shop in NY. Joy can help you for $25 per 30 minutes. We should warn you however, Joy doesn't work on Mondays and Tuesday is her "golf day". You can't make this stuff up.
This "software vendor" can also sell you condoms, hemorrhoid medicine, help you find unclaimed money, long distance service, or help you with your next catered event !! (they sure are busy at Net Money Business).
They offer a discount when paying by cashiers check, money order, or wire transfer. Why? (remember, you have no recourse if you want your money back with any of these).
They discourage the use of credit cards to buy the software (see his Terms and Conditions). (remember, if you pay by credit card, you have recourse if you want your money back).
They have no refund policy after the software is unlocked. Unheard of.
Where is this company located?? We couldn't figure it out (see final paragraph).
Their current e-mail address is [email protected]. How legitimate does that sound?
"All software sales are final." (right from his Terms page) Unheard of.
"Payment for hardware is non-refundable." (right from his Terms page)
References? He makes none available (see his Terms and Conditions). Are consignment shop owners really too busy to answer the telephone?!
In the BCSS software license agreement, Steve indicates that you aren't allowed to say anything disparaging about BCSS for two years after leaving. Why would any license agreement include that type of restriction?
And lastly, rather than provide decent software, Steve Henning (owner of BCSS) has gone thru the trouble of creating a "consignment software review" website that he disguises as an "unbiased" review site for the purpose of promoting his BCSS software - you've reached a new low Steve. To visit the site just Google "consignment-software-reviews" (we don't provide the actual link as it would add undo credibility to the site).
In an effort to track down an actual location for Steve Henning at BCSS (aka Net Money Business), we first found them in Brighton, TN. This is the same location the BBB has for their last known addreess. Since that time, that phone number has been disconnected and, if you believe their website, they seem to be in Dallas, TX. Further address research finds that address sells virtual office space for businesses that want to appear to have an actual office, but don't. When we tried to reach them in that "office", we were connected to a disconnected phone number. In short, we're not sure where BCSS is located - and Steve probably likes it that way.
Read more about Steve's antics on The Computer Peeps website.


Help! I've Been Taken!
If you've already been harmed by Steve at BCSS software, below are some steps you can take. While your first thought is probably to file a lawsuit against Steve and BCSS, our experience has been that people who operate like Steve are usually "judgement proof". In short, you'll win the case but won't be able to collect the judgement. As with all legal advice, it's best to consult an actual attorney.
Share your experience with others on The Computer Peeps online blog about BCSS
If you paid by credit card, contact the First Data Ethics Helpline. BCSS processes credit cards thru First Data. Toll free: 800-337-3366.
If you paid by credit card, contact your bank and initiate a chargeback - regardless of how long it's been.
If you paid thru PayPal, visit their fraud center and initiate a complaint.
Contact name.com, the hosting company that BCSS uses, and let them know they are hosting a website that you feel defrauded you.
File a report with the TX Attorney General's office
File a report with the Better Business Bureau of Dallas, TX.
File a complaint with the Internet Crime Complaint Center (IC3).
Traxia - "Simple Consign"
Our criticisms related to "Simple Consign" by Traxia are threefold.
First, is cost. The published price for "Simple Consign" is $149 per month. Their leasing model locks you into a monthly cost, forever!
Use our Cost Calculator to compare the true cost of "Simple Consign" to ConsignPro:
Second, Traxia seems to leave our some important features you'll undoubtedly miss, those include: consignor contracts, a customer rewards program, Smart Pricing, a consignor appointment scheduler, and customer coupons.
And lastly, "Simple Consign" is cloud-based. Cloud-based software has it's own set of unique risks that you should understand before putting your business (and your data) in the hands of someone else. Visit our Cloud tab to learn more about cloud-based software in a retail setting.
* Our model shows the software cost for one computer in your store and does not include any POS hardware that you might want to add to either program.
The Cloud, not right for Retail.
With all the hype surrounding cloud computing these days, you may be tempted to think you need a cloud-based system for your resale shop. The truth is, not only don't you need a cloud solution, you also don't WANT a cloud solution. While great for sharing information and backing up data across different types of computing platforms, it's not suitable for mission-critical business applications - and for that reason, no major retailer uses it.
Here's why a Cloud solution isn't a great solution for your Resale Shop:
A Lifetime of Expense. When did it become okay to pay for software forever? While great for software companies, the new cloud model stinks for software customers. With average prices of over $100 per month, you'll spend many times more for a software solution than you should, even if you're only open for a few years. The longer you're running your business the more outrageous the difference between a one-time purchase and a cloud-solution. Take our Cloud Calculator Challenge!
Filling a "perceived" need. A big selling-point to cloud-based software is that you'll be able to log into your system from any computer or device from wherever you are. It sounds great. The reality is, it's more likely a need you think you have than one you actually have. To my point, when is the last time you were sitting at a baseball game, on vacation, or at a movie and felt the need to work at your shop? The truth is, when you're not at your shop, you're away from it for a reason.
Control. Someone else is always in control. They rollout software changes when they want, whether you want the update or not. Imagine that you bought their "demo" based on a feature you loved and you woke up one day to find out they changed or even removed that feature?! You have no recourse, the version they want you to run is the one you run.
Reliability. Your business is at the mercy of your Internet connection. Let's face it, Internet connections are only as good as your Internet provider (ISP). Some are great, some aren't. With a Cloud solution, when your Internet is down, your business is down. Let me repeat that, your business is down if your Internet fails. Can you afford to let your ISP determine the success of your business?
Reliability. Your business is at the mercy of THEIR computer server. If their server goes down, your business goes down.
Reliability.You are at the mercy of your web browser. Web browsers (Explorer, Firefox, Chrome, Safari, etc) release updates sometimes DAILY. With every minor revision, you may find your printers broken or, worse yet, your software.
Speed. How often have you waited for a web page to load? Imagine you're waiting for that page to load with a line full of customers. That's what Cloud computing is, a web browser and web pages (acting as an application).
Security & Availability. With the Cloud, your business data isn't located in your store. It's located on a remote server, somewhere. Who has access to it? Is the server secure? If you wanted access to the data for a mailing house, web developer, or simply wanted to have it converted to another software, can you get access to it? Where is your data if they go out of business?
A Better Way. Lastly, all of the great benefits promised by Cloud computing can be easily accomplished with great "desktop" software – without the pitfalls mentioned above. For example, ConsignPro backs up your data remotely, free remote desktop software allows you to access ConsignPro from any device at any time, our remote loader allows you to enter Inventory from any web enabled device, our SMS feature automatically sends your sales data (at any time of the day you choose) to your cell phone, consignors can access their accounts 24/7 using MyResaleWeb.com, Updates are yours at your request. See our Solutions grid below.
In summary, in our opinion Cloud computing is great when cost, control, reliability, and speed aren't critical. As you know, this is the exact opposite of the needs found in a retail setting. For these reasons, you won't find Cloud computing in any major retailer (Wal-Mart, Costco, Target, Sears, Staples, etc). The experts weigh-in - last paragraph particularly relevant.
If you're not convinced yet, look at the Cloud architecture below and ask yourself: What happens to this workflow if the "Internet" fails? Or, their Server in the center fails? Simply put, the risks associated with a Cloud architecture outweigh the benefits, in a retail setting.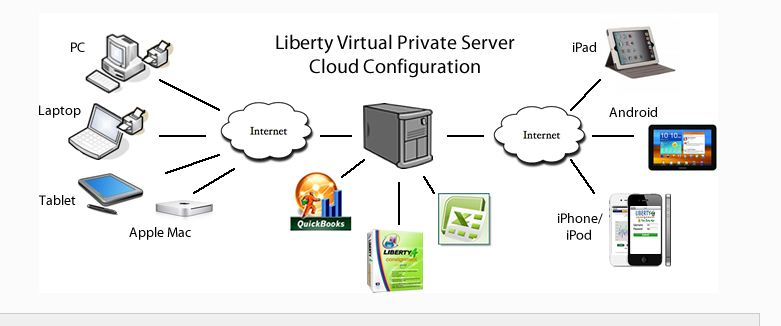 The Benefits of The Cloud and how we solve them - without jeopardizing your business:
| | |
| --- | --- |
| Benefit | Solution |
| Access ConsignPro at anytime, on any device | Install a free software program called Team Viewer and have access to ConsignPro from anywhere at anytime on any device. |
| Low monthly usage price | You can purchase our "ConsignPro EZ Lease" license and use ConsignPro for $129/month (one computer). |
| Software Updates | Software Updates are included for life with our "ConsignPro EZ Lease" license. |
| Technical Support | Technical Support is included for life with our "ConsignPro EZ Lease" license. |
| Using ConsignPro from multiple computers in your shop | Network licenses can be added to our "ConsignPro EZ Lease" license for only $29/month each. |
| Consignor access to their account | MyResaleWeb.com service can be added to our "ConsignPro EZ Lease" license for only $10/month |
| Enter Inventory remotely | Our Remote Data Entry license can be added to our "ConsignPro EZ Lease" license for only $10/month |
Final Thought: In our opinion, we feel that we have the easiest to use software and most complete software available for Resale Shop owners and consider ALL of our customers references. We hope you feel the same, if not, we'll refund your money. It's just that simple.
All information on this page was gathered from individual company websites as of April 1st, 2005 and from customer feedback. Information can sometimes change. We suggest contacting individual companies to verify the information as you see fit. We will update this page as new information materializes within the industry.